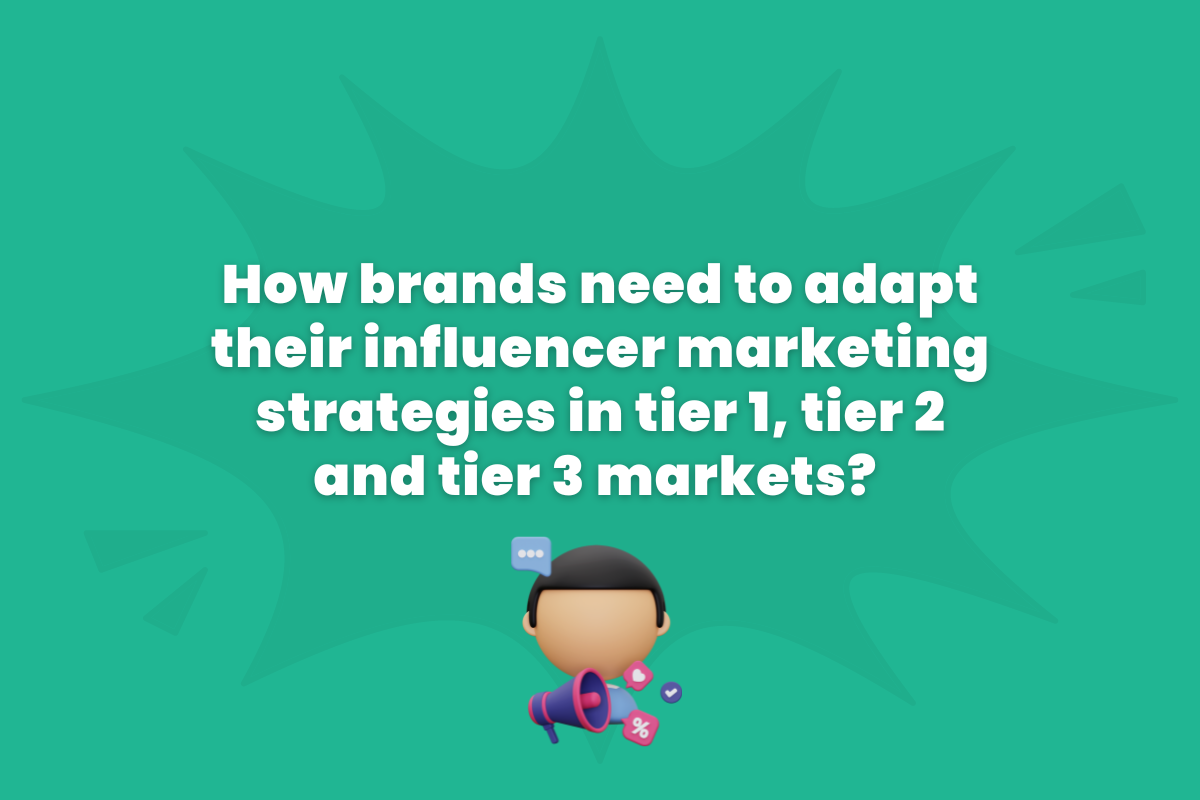 03 February 2023
Adapting Influencer Marketing Strategies for Different Tiers Market
Most of us have bought a product or signed up for a service at least once in our lifetime just because one of our favorite influencers recommended it. These influencers could be celebrities, politicians, artists or even people among us who have managed to attract a huge audience on social media through stimulating content. In fact, these individuals are more popular than traditional celebrities as they are more accessible and relatable.
Businesses have realized the potential of influencer marketing as a tool to elevate their brand within a short span of time. Since influencers are one among us, it is easy to gain trust and build brand credibility with the help of influencers. Businesses are leveraging influencer marketing to achieve a number of objectives. However, just like with every other marketing tactic, a one size fits all approach won't work here. Businesses need to adapt their influencer marketing strategies to appeal to different demographics across tier 1, tier 2 and tier 3 markets.
Let's dive in to understand how influencer marketing works differently in tier 1, tier 2 and tier 3 markets.
Influencer marketing in tier 1 cities
Delhi, Mumbai, Bangalore, Chennai, Hyderabad, Kolkata, Ahmedabad and Pune are the important tier 1 cities in India. Brands need to take into account the demographic and psychographic features of their target audience in tier 1 cities before they devise their influencer marketing strategies. Tier 1 markets generally comprise an urban educated population who constantly aspire for a better lifestyle and are willing to explore new things.

When leveraging influencer marketing to appeal to people in tier 1 markets, brands need to pick influencers that have characteristics similar to their target audience. People in tier 1 markets don't make purchase decisions solely based on the price of the product. People here are invested in the brand values and brand story rather than just the price or product USPs. Plus, most consumers in urban cities are tech-savvy and well-versed in English which means communication strategies need to be developed accordingly.

Influencers who lead an aspirational lifestyle with a massive follower base and high engagement in social media would be perfect to appeal to audiences in tier 1 cities. One of the key factors determining the success of an influencer marketing campaign is whether the chosen influencer shares the same personality as your brand. If your brand personality is fun, carefree and humorous, you need an influencer that posts similar content. Speaking of tier 1 markets, rising incomes and glocal aspirations are the key characteristics of people residing here. Mega influencers with more than a million followers or macro influencers with 500k to 1 million followers are mostly preferred by brands when targeting individuals in tier 1 cities.
Influencer marketing in tier 2 cities
Tier 2 markets present a host of opportunities for brands to elevate their brand. When appealing to people in tier 2 cities, a vernacular approach would be more effective. Agra, Bareilly, Auragabad, Amritsar are few important tier 2 cities across India. Tier 2 cities are different from tier 1 cities as the population here is more comfortable with vernacular content. Influencers who have a good grasp over vernacular languages must be chosen when communicating with tier 2 cities.

An integrated approach with equal weightage to both vernacular and English language would be more appropriate. Authenticity is important when communicating with people from tier 2 cities. Choosing Influencers who make relatable content and are comparatively more accessible to the common people will have a greater impact.

Partnering with mid tier influencers who have a dedicated following is recommended for brands trying to penetrate tier 2 markets. Mid-tier influencers have followers between 50K to 500K. People in tier 2 markets are more interested in the product quality than brand values. Influencers whose lifestyle choices seem more realistic and achievable need to be chosen when communicating with tier 2 cities. Product USPs need to be the main focus when devising influencer marketing strategies for tier 2 markets.
Influencer marketing in Tier 3 markets
Vernacular content holds great significance in tier 3 markets. People in tier 3 markets are looking for value for money when making purchase decisions. Micro influencers with 10K to 50K followers and nano-influencers with 1K to 10K followers can better appeal to tier 3 markets. Such influencers may not have a huge follower base but they enjoy high engagement rates. People in tier 3 markets are more likely to follow influencers who post content that is more focused on the price or 'value for money' factor.

The values and sensitivities of tier 3 markets differ from tier 1 and tier 2 markets. Influencers must therefore be chosen accordingly. An influencer who is quite popular in tier 1 markets may not appeal to the target audience in tier 3 markets. There are vast differences in the mindset, attitude, beliefs and an influencer that aligns with the values of the majority of the population should be chosen to promote your brand in tier 3 markets.
In a nutshell
Influencer marketing has gained immense popularity over the past years and the trend is here to stay. Brands that leverage influencer marketing must learn to adapt their strategies when targeting different audiences. An individual from tier 1 market may look for perfection in content whereas an individual from tier 2 or tier 3 market may be impressed by how authentic or relatable the content is. Understanding the target audience is key to devising a successful influencer marketing strategy.

With the internet getting cheaper and more accessible, people from tier 2 and tier 3 markets are increasingly using social media which has opened gates for individuals to become powerful influencers. Brands must be careful when choosing influencers to endorse their brand as the influencer's reputation can make or break their brand image.
CTA
Webtraffic.Agency is a full-service digital marketing agency that caters to businesses of all sizes. With a seasoned marketing team, cutting edge tech-enabled solutions and a combined experience of 20 years, we offer bespoke digital marketing solutions to businesses from across industries. Contact us today to turbocharge your business with robust digital marketing campaigns!