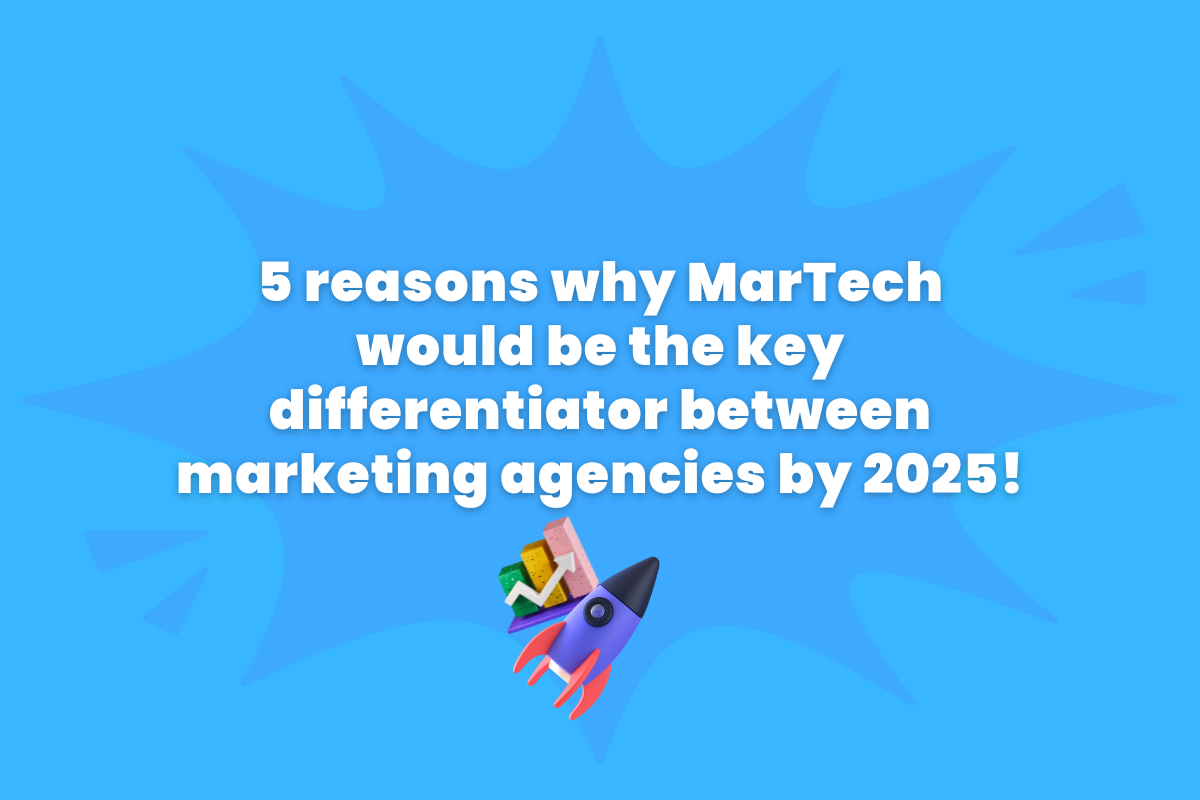 03 February 2023
5 reasons why MarTech would be the key differentiator between marketing agencies by 2025
Technology is advancing at a rapid pace today and the digital marketing landscape has subsequently evolved in response to technological developments. While digital marketing when it first started was far more simple and restricted to a few blog posts or paid ads, today the story is different altogether. Digital marketing now encompasses a wide range of advanced tactics to reach and convert prospects. With the proliferation of online platforms, running marketing campaigns in isolation just doesn't make sense anymore. There is a need to take a fully integrated approach towards digital marketing so there is a visible impact on the bottom line.
A digital marketing agency that runs campaigns with little to no understanding of how everything works in tandem to impact your business is certainly not the right fit for your business. Real time data analysis and campaign optimization is critical to survive in this fast-paced digital environment. How to close the digital gap and leverage automation and integration to maximize digital marketing impact? Marketing technology (MarTech) is the answer. An agency with Martech capabilities can effortlessly integrate and streamline digital marketing operations to help win an edge over your competitors.
As a business, you need an agency that can manage your online presence across platforms with a holistic, broader perspective. Listed below are a few reasons why MarTech would be the key differentiator for agencies going forward :
1. MarTech enables real time data analysis
Digital marketing today involves a multi-device, multi-channel approach. You will need to constantly analyze and compare hundreds of competitors across diverse platforms and identify opportunities and threats. An agency with Martech capabilities can capture and consolidate data instantly to save weeks or even months of research. When you hire an agency that still relies on old methods of data collection and analysis, you are actually letting your competitors get ahead of you. A dynamic Martech stack that compiles data from multiple sources and enables real time analysis is critical to deliver real business value.
2. MarTech boosts marketing efficiency with automation
Have you ever felt like your marketing is not quite bearing results despite diligent efforts? The lack of automation could be blamed for this. There are several touchpoints influencing customer purchase decisions and a below par experience even at one touchpoint could dissuade customers from associating with your business. MarTech automates processes, enabling businesses to promptly deliver personalized messages to prospects without having to spend a great deal of time manually executing them. An agency with cutting edge Martech software to enhance marketing performance is in a better position to scale campaigns and deliver maximum value for your business. With martech software, your digital marketing will be optimized at every stage of the buyer journey to accelerate conversions. Automation drives better efficiency and productivity, eliminating time-consuming tedious tasks and attracting high-value customers.
3. MarTech delivers an integrated, single view of crucial consumer data
Having large volumes of data is of no use if it doesn't aid decision making. You can make sense of data only if they are stored systematically. Consumers' online habits keep changing and it's critical to analyze these behaviors so you can devise a marketing strategy that best appeals to your prospects. With a Martech agency by your side, you will know how your prospects and customers are interacting with your brand in a single, integrated system. There is better visibility into target audience' tastes and preferences which improves customer understanding and in turn aids laser targeting and marketing personalization.
4. MarTech facilitates customer service optimization
Gone are the days when consumers used to make purchase decisions solely based on the price factor. Today customer experience is the key factor that separates ordinary brands from the extraordinary. Quick responses and exceptional customer service is a must which isn't quite practical without MarTech. When you are hiring a marketing agency, you might as well hire one that is equipped with a MarTech stack so your prospects have memorable digital experiences. From implementing chatbots to leveraging social listening tools, MarTech stack will help navigate complex customer journeys and optimize customer experience at every touch point.
5. MarTech powered Digital Asset Management could multiply business ROI
Digital marketing involves distribution of images, videos and other digital assets across several online channels. Creating a library of digital assets might be easy but managing these assets is quite a tedious task. Especially when you have teams from across locations, accessing and managing a vast library of digital assets could prove cumbersome. A MarTech stack can help eliminate duplication of assets and accurately assess the ROI driven by each asset. A MarTech stack is pivotal for businesses to optimize strategies in a way that ensures improved ROI from the digital assets.
Final thoughts
MarTech is integral to business success in today's day and age where personalization, optimized customer experiences and hyper-focused targeting is of utmost importance. If you are still thinking whether investing in MarTech makes sense for your business, you need to stop thinking and start acting. If you don't leverage Martech to your advantage, you are losing your prospects as well as existing customers to competition. Devising a marketing strategy is one thing and flawlessly executing it is another. MarTech unites all facets of marketing so you can view data holistically and take sound marketing decisions in the future. An agency that can help your business grow and thrive with cutting edge marketing solutions powered by the latest technology and tools is always a big plus.
CTA
Want to enhance your marketing efforts with tech-enabled solutions? Webtraffic Agency is your one stop solution for all things marketing. From providing a full suite of digital marketing services to helping businesses market smarter with an arsenal of high-tech tools, we offer ROI-focused, lasting solutions for sustainable growth. Partner with us today to disrupt your industry and propel your business forward!