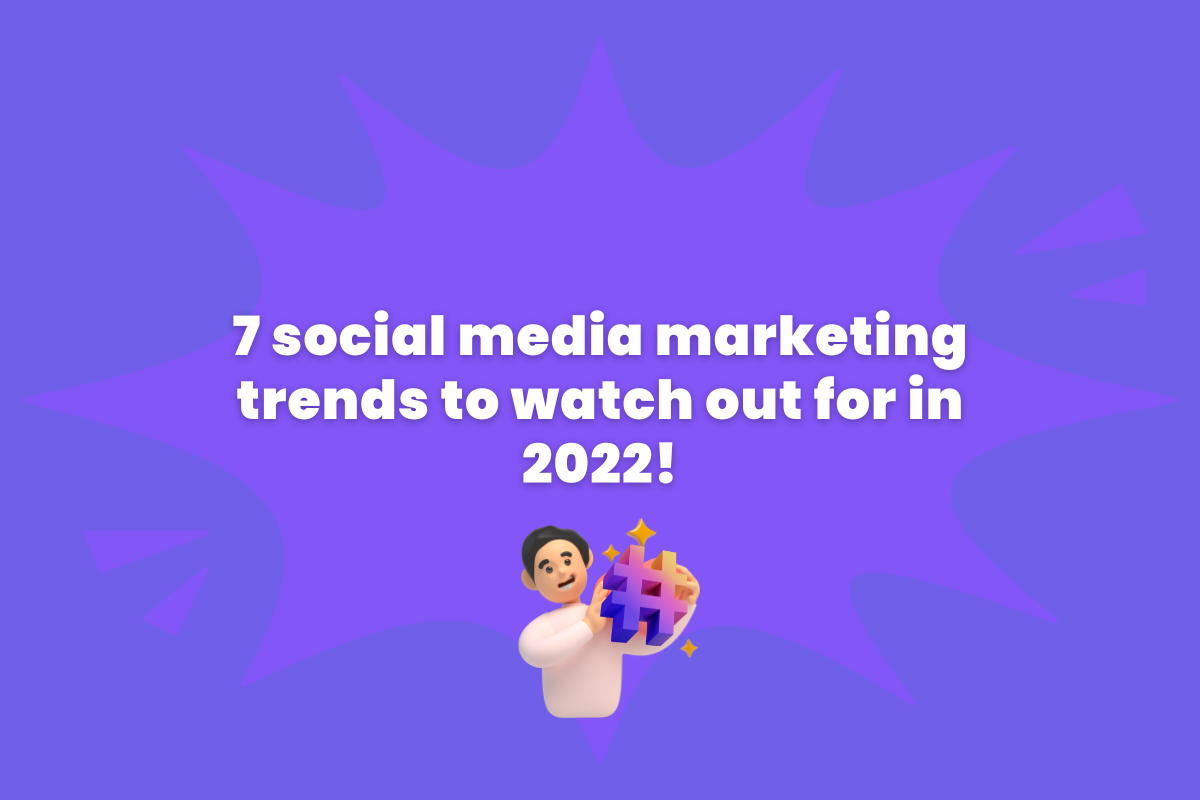 03 February 2023
7 social media marketing trends to watch out for in 2022
If your business has an active social media presence, you are probably aware of how quickly things change and trends emerge on social media platforms. A lot of your social media marketing goals can be effortlessly achieved if you know how to capitalize on popular social media trends. Sounds doable? Now here's the hard part - before you try to capitalize on trends, you first need to identify what they are!
As a leading social media marketing agency in Mumbai, trend gauging is unarguably the most vital part of our job description. We do that day in, day out. So as 2021 comes to a close, we bring you a specially curated, painstakingly researched list of 7 important trends that will prime your brand for social media success in 2022. Let's dive right into it.
1. Social media will be the new shopping platform
Social media networks are introducing in-platform shopping tools for ecommerce brands to expand their selling opportunities. Especially as the COVID-19 shut down several mom and pop stores, small retailers turned to social networking sites to survive through the pandemic. Younger population is more inclined towards social media shopping as statistics reveal that 37% of the shoppers bought something through social media.

What does this mean for brands? The number of social commerce buyers is expected to cross 100 million by 2030. It means users are moving from standard internet shopping on browsers to social media platforms and it's high time brands utilize these shopping features and upgrades to tap into new revenue streams. Facebook leads the way in social commerce with Facebook Marketplace and shoppable ad tools. Instagram, with its 'Instagram Checkout' feature, is also gaining popularity as a shopping platform, thanks to its immersive full screen storefront.
2. Micro-influencers will gain more prominence
We all are aware of social media influencers who have amassed millions of followers with inspirational, informative and exciting content. But who are micro influencers? Micro influencers are those with a comparatively small follower base. These influencers create content centered around a specific niche which could be anything from beauty and fashion to fitness and food. Partnership with micro influencers is what brands are leaning towards in recent days.

Especially if you are a small business, partnering with micro influencers makes more sense as they have a loyal follower base and you stand to gain more benefits with a limited budget. As you gear up to prepare next year's social media plan, be sure to include collaboration with micro influencers as one of the important marketing tactics. Hiring a reputable social media marketing company in Mumbai is recommended to partner with the right influencers and create meaningful collaborations that can elevate your brand.
3. Short form video content is here to stay
Video content is highly popular and that's a well-known fact. A recent study indicates that 82% of online content will be made up of videos by 2022. But the focus is now shifting towards short form video content. Users prefer watching short, engaging videos rather than lengthy videos. This doesn't mean you have to do away with long videos altogether. But include more short videos in your marketing mix as the attention span of social media users is decreasing and lengthy videos may not be watched till the end.

Tiktok was the first platform to encourage short form videos and soon Instagram followed suit by introducing 'Reels'. YouTube too came up with 'Shorts' and these new features received massive response from content creators and users across the world. If you are keen to make the most bang for your buck, invest in short videos that keep your target audience glued till the end.

The use of 'Stories' feature will continue to rise in the coming years. Stories refer to ephemeral content that can be viewed only for a short period of time (24 hours). This feature is available in Instagram, Facebook and YouTube. Brands that haven't been actively posting stories must henceforth make it a point to harness the power of 'Stories' feature to give a glimpse of behind the scenes fun or any such short-lived but interesting content to get closer to your target audience.

Stories allow brands to add a swipe link which can be used to redirect viewers to their website. One in 3 Instagram users said they had become more interested in a product after viewing it on Stories. Stories will continue to gain immense popularity and your aim should be to post quality content rather than adding 15-20 low quality images or videos at a time.
4. Live stream videos will continue to gain popularity
Live videos are gaining immense popularity and the trend is expected to continue in the coming years. Brands are boosting engagement by'Stories' will drive higher engagement holding live discussions on social media with influential leaders. Live streaming of product launch events, anniversaries or any other milestones is an opportunity to grab attention and keep your target audience engaged.

Live videos are reported to rank higher in people's news feeds which means these have a higher organic reach. As live videos are raw and unrehearsed, it helps you connect with your target audience on a more intimate level. Plus, as consumers become more aware and choosy, live videos will help your brand to be perceived as confident and available for interaction with their target audience.
5. Shift towards bite-sized content
People's attention span has reduced drastically resulting in the rise of bite-sized content. Though people are spending more time on social media, they aren't spending much time engaging with individual posts. If you have been creating content without taking the attention span into consideration, it's time to rethink your ways.

People who access social media content from computers spend slightly more time on a piece of content than people who access the same content from mobile devices. Going forward in 2022, bite-sized content will dominate social media platforms. Stories or short videos that quickly get the message across the audience will perform better on social media where people are mindlessly scrolling most of the time.
6. More brands will explore augmented reality
Though Snapchat pioneered AR, Facebook and Instagram too have launched AR features. Lenses, filters, effects and try-on options are examples of augmented reality on social media. But social media platforms are expected to add more augmented reality features in the future. Brands are creating their own custom filters and effects and garnering impressive responses from target audience and customers.

AR powered content is said to have user engagement that lasts more than 75 seconds which is a really good engagement rate. Augmented reality would become more mainstream in the coming years and brands must not shy away from honing in on the latest AR trends. If you need help to leverage AR features on social media to your brand's advantage, it is wise to hire professional social media marketing services in Mumbai.
Final thoughts
Social media trends keep evolving and it's up to you to use these trends to your advantage. Remember that your target audience is a step ahead of you when it comes to being up-to-date with the latest trends; in fact, they determine most of them. Your prospects and customers are more interested in interacting and associating with brands that understand the audience pulse. So the more trend-driven you are, the more you will appeal to your audience and the more you could gain from social media platforms.

Social media may come across as quite simple and easy and it sure is. But when it comes to social media marketing for brands, it's a different game altogether. Managing your business account on social media is not the same as managing your personal account. The way you use social media to promote your products/services can be a real game changer for your business.

If you don't have the necessary expertise, knowledge or time to invest in social media marketing, then you'd be well advised to partner with a credible social media agency in Mumbai. With an experienced agency by your side, you won't have to worry about missing out on trends and failing to capitalize on them; your agency would do that for you. And if your agency is worth its salt, it will help you gain the first mover advantage in your industry by identifying and acting upon social media trends before your competitors do.
CTA
Webtraffic.agency is a leading social media marketing agency in Mumbai with a proven track record of empowering brands with winning marketing strategies. From ideation to end-to-end campaign management, we are a full-service agency with marketing professionals dedicated to monitor every aspect of your social media campaign. Get in touch with us today to create a robust social media strategy and amplify conversions!